The upcoming workplace show 'Tears on Fire', a collaboration between PTS and myVideo, is one of the most anticipated Taiwanese shows of 2021. What draws attention is not just the skilled cast, but also what happens behind the scenes; from a video, we can see that the making of the show was no small feat. It took more than three years from the start of field studies to the final camera shot, all with a single goal in mind–––– to tell a compelling story about what it's like to be a Taiwanese fireman.
The director Tsai Yin-chuan, whose previous work includes 'Stilt' (2012) and 'Packages from Daddy' (2016), is skilled in depicting human nature as she cares deeply about community issues; the reason for her writing and direction of 'Tears on fire', a workplace show about firemen, stems from her seeing several conflagrations that happened in Taiwan a few years ago. "A lot of these news reports mentioned firemen dying on the job. When I started my research, I really felt a lot for them," she said.
After she completed her field studies, she realized just how complicated and heavy the work of Taiwanese firemen is." I was even more driven to depict the hardships that firemen face and to tell the stories that actually happen on this land of Taiwan."
From the field studies, the birth of the script, to the production planning, Tsai had made sure every detail scrutinized. "It was clear to me from the moment I decided to tell a story about firemen that it was going to be a huge task. Aside from the heavy researching of books and videos, we interviewed firemen, substitute firemen, and supervising firemen across the country; we even collaborated with New Taipei and Taitung Fire Departments and went on the job with the firemen of different precincts. We had a taste of what it's like to be always on guard and overworked." said Tsai.
But as time and effort consuming as it was, Tsai thought every minute worth it. "We hope to deliver a show of quality. We want people to see what heights Taiwanese television can reach, and we hope to let more Taiwanese know, through 'Tears on Fire', the hardships and challenges Taiwanese firemen make and face on a daily basis." She said.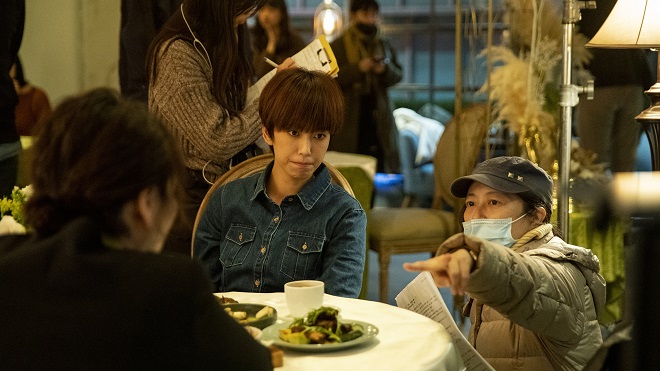 'Tears on Fire' director Tsai Yin-chuan and actress Annie Chen / PTS
Tsai is also known to be meticulous in her carving of characters. 'Tears on Fire' casts James Wen, Annie Chen, Lin Bo-hong, and Kuan-Ting Liu as its four leading roles. Regarding the characters, she said, "These four roles each represent the situations and dilemmas that Taiwanese firemen often face. It is a truly fortunate thing that we have such talented and professional actors to play these characters."
The actors, on the other hand, said that the director was exceptionally helpful in terms of the completion of their characters. James Wen, who had previously worked with Tsai in Stilt, said, "She (Tsai) is scrupulous about the characters' emotions and very particular about our performance. Intonation, tone, or even how many times we blink, nothing goes under her radar. All of it affects how she sees the characters."
Kuan-Ting Liu agreed and said, "She's a really warm person. When the cameras were rolling, you'd see her come running towards you from behind the monitor. She would show you very gently and slowly what wants adjustment, and guide you through every step of the way." Award-winning actress Chuan Wang also complimented her, saying, "the director tunes the actors' performance in the gentlest way possible. This is a wonderful thing; as an actress, at least, I find it very sweet."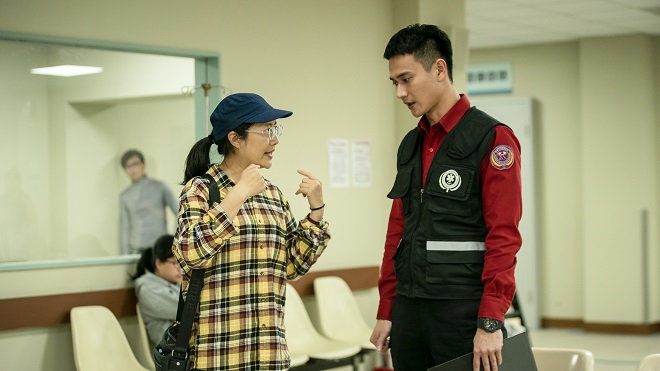 'Tears on Fire' director Tsai Yin-chuan and actor Kuan-Ting Liu/ PTS
'Tears on Fire' follows a squad of firemen from the Tong-an station of Da-yuan city, who, in the course of their precarious firefighting, first-aid or rescue missions, see human nature, and how people live in all walks of life. Through their many different cases, we see what it's really like to be a firefighter, and what heart-rending stories that are known only to the courageous life-savers. On the job, the Tong-an squad are of one body that lives and dies together. But out of their uniforms, they are but flesh and bones, each with their own set of life struggles to confront.
Qiu Han-cheng (James Wen) is in a dilemma between his family and work. Despite his love for firefighting, he is struggling to take care of his five-year-old daughter and expecting wife; Xu Zi-ling (Annie Chen) is the only female fireman in the squad, She aims to prove that her abilities are not inferior to her male counterparts, yet she never manages to attain her family's support and is compelled to toughen herself up and hide her vulnerabilities; Chang Zhi-yuan (Lin Bo-hong) is usually the most hot-headed and courageous of the squad. But when everyone's asleep, nightmares haunt him; what kind of past does he bare? Lin Yi-yang ( Kuan-Ting Liu) is a righteous firefighter who spares no effort in protecting his colleagues. But he is also a regular instigator of quarrels on the job, making him a pain-in-the-ass in the eyes of his superiors. Together, these firemen are to face a conflagration that will forever change their fate.
▼'Tears on Fire' behind the scene – the director.
'Tears on' Fire is scheduled to be released on myVideo and PTS on May 1.